About South Dakota Chiropractors Association
First Beginnings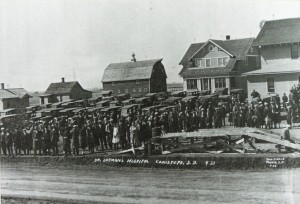 Our roots go back to 1874 when Dirk Tieszen, Sr. set a young girl's elbow while on an immigrant's ship coming from Russia.  Later he set the dislocated shoulder of Heimrick Schmidt of Marion, SD.
This is very significant, as we had a practitioner in SD before D.D. Palmer discovered chiropractic in 1895.
Dr. Dirk's place was house and barn together, European style.  It was 100 feet long with 2 foot thick walls.  He set fractures and adjusted the spine from 1874 – 1913.  He didn't speak English, didn't allow pictures of himself and didn't charge patients.  They even stayed with him and ate from his table.  Later he had a dish out for twenty-five cent donations.
Dirk had 12 children, including Peter, the founder of the first Tieszen Clinic, and his younger brother (by 23 years), Dirk, Jr., founder of the second Tieszen Clinic, both in Marion.  Several historic panels trace the further history of the Tieszen family.
The first graduate chiropractor to practice in SD was Elsworth Dowd.  He graduated in 1904 from Palmer Institute and Infirmary.  Later, in 1906, it became The Palmer School of Chiropractic.  He practiced in Waubay, SD.
Roy Dowd followed in his father's footsteps, graduating from Palmer College in 1911 and practiced over 63 years in Waubay and Webster.
In 1921 the first law was passed licensing chiropractors in SD.  The doctors instrumental in promoting the law were Drs. Rensvold, A.W. Schwietert, J.W. Platte, Annis, Herbert Smith, Solberg, Tieszens, Severance and others.
The first license was issued to Dr. George Rensvold, a 1914 graduate of Palmer College.  He was also appointed to the first Board of Chiropractic Examiners and became an active lobbyist for the chiropractors in the state legislature.  He practiced in Pierre, Brookings and Sioux Falls before moving to MN in 1942.
The SDCA was chartered in November 22, 1921. The three incorporators of the association were A.W. Schwietert, J.W. Platt and Charles Smith.  (Editor's note:  It was common practice in those days to use initials rather than given names.)
We can assume that A.W. Schwietert was instrumental in promoting the association, as he had served as secretary of the Iowa Association before moving to Sioux Falls.  He graduated from the Wiegert School of Chiropractic in 1916 and practiced in Marshaltown, IA until 1919, when he moved to Sioux Falls.  He was so enthused about chiropractic that A.W. sent his father, John, to Palmer College, where he graduated in 1918.  He served as Director of the SDCA for the early years and then as secretary-treasurer from 1928 through 1942. (Note by Historian Ervin R. Ortman, Sept. 2001)
Dr. John Platt graduated from Palmer College in 1916.  He practiced in Flandreau and was elected our first president and served in that capacity for seven consecutive years.  He then moved to Brookings and was soon re-elected to the presidency.
In examining the 80-year history of our association, it is my opinion that Dr. Platt served as our president longer than any other chiropractor in our history, having served either 10 or 11 years.
Dr. Smith graduated from Palmer College. He was one of the three incorporators and served as our first secretary, a position he held until 1928 when A.W. Schwietert became secretary.  Dr. Smith practiced in Watertown.
The first convention was held at the Cataract Hotel in Sioux Falls with 36 voting members.  Of major significance was a 13-page document with approval of the "Principles of Chiropractic Ethics" which governs our conduct 80 years later.
Section I Included "The profession has as its primary object the service it can render to humanity.  Reward or financial gain should be of subordinate consideration."
"The practice of chiropractic is a profession with the assumption that a chiropractor will conduct himself in accord with the profession's ideals."
By 1923 records show 103 chiropractors with many females.  Eleven doctors gave 5-minute speeches at the banquet, with dancing until midnight.  The annual membership fee was $30.00; with only 53 members they reduced the annual fee to $15.00.
In 1924 the first legislative battle was mentioned as the association moved to take steps to amend the Workmen's Compensation Act to give employees the right to choose the method of healing amongst the licensed healing professions in the state.
In 1925 the legislature amended the chiropractic law to allow anyone who had practiced in the state for 10 years to be grandfathered in.  The first three licensed were Peter Tieszen, Amon Ortman and Dirk Tieszen, Jr.
Mention of the Tieszens has already been covered.  Amon Ortman was a young farmer being called on to treat people for various health problems.  His practice grew so rapidly that his brother joined him and they erected a hotel on the farm to accommodate patients.  Brother Noah was also grandfathered in.
This concludes the brief history of the "Firsts" in South Dakota's chiropractic history.  Many other doctors should have been included, but there isn't any written record of others who
participated.
In conclusion I would like to read a few colorful excerpts from minutes of the Sioux Valley Chiropractic Association with expressions from their secretary, Herbert Smith.
February, 1934 – Spirited discussion followed which upon studied scrutiny, bore the stamp of such righteous disapproval of this unholy practice of charging less fee than befits one who is regarded as a cultured and learned counselor in the secrets of the Goddess Hygeia – as comes only to those who feel and unbending rectitude to their cause.
In speaking of women he describes Dorothy Tjaden as being the first lady orator to speak at a District Meeting.  "She set a Bull's Eye for the female portion of the chiropractors to shoot at.
"Her talk was salted and peppered with invigorating language and for Worcestershire Sauce she interspersed robust ideas of personal development."
These were monthly meetings.  In March, 1934 he again referred to women: "Like Mars at Perhelion our March meeting stood out as most notable.  We were enriched by the colorful touch of femininity here and there, spicing the meeting and adding that indefinable flavor that can only be likened to raisins and nuts in a loaf of delicious fruit cake."
Minutes also indicate that D.D. Palmer was a guest speaker introduced by A.W. Schwietert.
May 1934 – Marion, SD
"After an educational demonstration by Dr. Isaac Tieszen the finishing touch was in his Prescription Dept. in the basement.  A large aluminum cask was pumped and lo a brown medicine gently flowed forth.  Dr. Tieszen's Prescription Dept. was busy for two hours, and it had all the qualities of simon pure chiropractic minus the disrobing."